Get Professional Training in Culinary Arts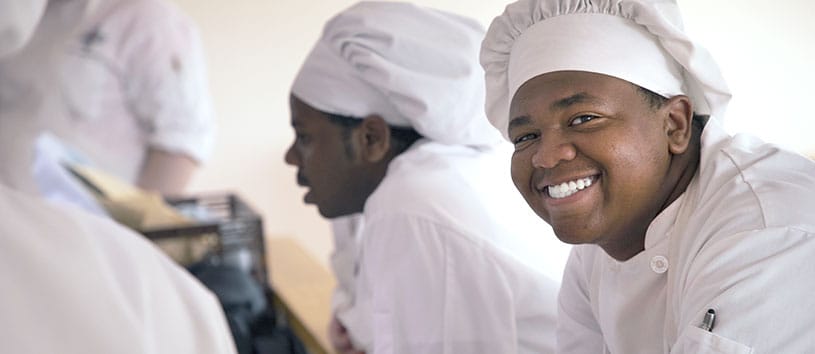 12-Month* Professional Culinary Arts Training in Pittsburgh, PA
Does food inspire you? Is the kitchen where your creativity runs free? Would you like to create memorable meals that everyone remembers for years to come? At Bidwell Training Center, our Culinary Arts Program will hit the spot for all your cooking, baking, nutrition, and hospitality management interests.
Bidwell Training Centers Culinary Arts Program is designed to allow student's skills to grow from fundamentals to advanced cooking techniques which can be used in a variety of food service industry careers. With hands-on learning in a fully-equipped commercial kitchen and support from expert instructors, you will get the skills you need to pursue a rewarding career in culinary arts.
Now Accepting Applications!
Apr 1st, 2024

Culinary Arts

: Culinary Arts

Bidwell Training Center - Bidwell Training Center

1815 Metropolitan Street

Pittsbrugh

PA

United States

15233

The Culinary Arts Program will hit the spot for all your cooking, baking, nutrition, and beverage interests. You will learn the fundamentals of classic cuisine as well as important time and resource management skills.

https://bidwelltraining.edu/wp-content/uploads/2016/11/Culinary-e1566513530784.jpg

Bidwell Training Center
The best way to see if Bidwell Training Center is the right fit for you is to contact an admissions representative. Get more information on our programs and class schedules so that you can make an informed decision about your future. Contact Us Now >>>
Become a Skilled Culinary Arts Professional
In this program, you will take courses to gain and improve your culinary skills, including:
Intro to Food Service
Sanitation
Culinary Skills Development (knife skills, basic stocks/sauces, cooking methods, HACCP Training)
Culinary Fundamentals (meat, poultry, fish/seafood, farinaceous, fruit vegetables, salad, breakfast & dairy)
Hot & Cold Food Preparation I – V
Nutrition for the Culinarian
Culinary Supervision
No-Cost Programs
At Bidwell Training Center, we know how difficult it can be trying to make ends meet while pursuing your career goals. That's why all our programs are offered at no-cost.
Tuition is not charged to students who are residents of Pennsylvania and who also have their high school diploma or equivalent. Funding for Bidwell Training Center is received through the State of PA, foundations, grants, and individual donors. The tuition, fees, uniforms, scrubs, and textbooks are covered for all accepted students.
Hands-On Culinary Arts Experience
We will teach you the fundamentals of classic cuisine in 10:1 teacher-to-student ratios. You will learn important time and resource management skills while preparing meals from a menu that changes daily. You will get real, hands-on experience in order to see for yourself the types of jobs and duties you will be performing in your future career.
By the time you graduate, you will have the skills and expertise to get a career in this thriving industry!
Career Opportunities
Upon completion of this course, you will be able to work in areas like restaurants, hotels, resorts, catering, universities, upscale grocery stores, casinos and cruise ships in a variety of positions, including:
Pantry Cook
Prep Cook
Line Cook
Baker
Cake Finisher
Sous Chef
Kitchen Manager
Your Future Culinary Arts Career
Not only does Bidwell Training Center offer comprehensive career training, we also provide students with career placement services. With dedicated placement staff available from day one, along with Professional Development courses built into the program, you will be confident and prepared to make the kitchen simmer.
Is a Rewarding Career in Culinary Arts Right For You? Get More Info…
If you're interested in learning more about careers in the Foods Industry and exploring whether Bidwell Training Center is right for you, fill out the form on this page to receive more information.
For immediate questions, call 412-402-9761
*Program length when completed in normal time.