Get The Skills to Become a Medical Assistant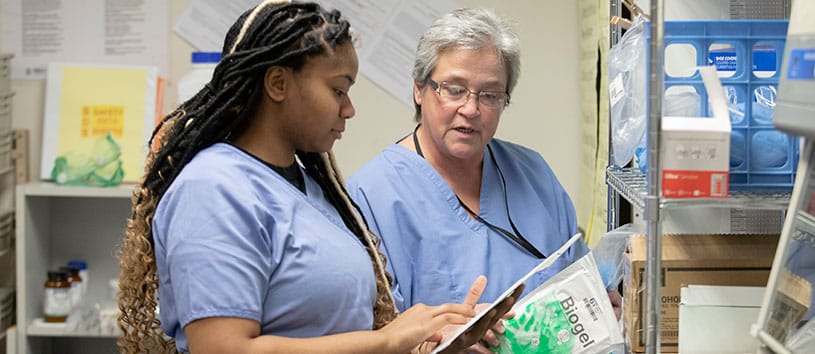 7-Month

* Professional Medical Assistant Training in Pittsburgh, PA

Are you a compassionate individual with strong communication skills? Do you want to help increase the quality of patient care? If so, Bidwell Training Center can help you get a rewarding career as a medical assistant with a specialty in the electronic health record.

In the Medical Assistant program, you will learn how to utilize the electronic health record, document health care services, as well as perform clinical duties. By the time you complete your program, you will be confident and career ready for a variety of medical job opportunities.


The best way to see if Bidwell Training Center is the right fit for you is to contact an admissions representative. Get more information on our programs and class schedules so that you can make an informed decision about your future. Contact Us Now >>>
Become a Professional Medical Assistant
This program will provide you with the skills and experience to be a qualified healthcare professional. You will learn how to function as a member of a professional team, use electronic health records proficiently, obtain vital signs and patient history. Upon completion of the program, you will have the skills and knowledge to pursue a fulfilling career in the healthcare industry.
This program features many career focused courses, including:
Anatomy & Physiology/Medical Terminology I-III
Clinical Procedures & Laboratory Techniques I-III
Coding
Communications & Professional Skills
Computers & Professional Skills
Electronic Health Records I – II
Fundamentals of Medical Assisting I – II
Mathematics
Pharmacology
No-Cost Programs
At Bidwell Training Center, we know how difficult it can be trying to make ends meet while pursuing your career goals. That's why all our programs are offered at no-cost.
Tuition is not charged to students who are residents of Pennsylvania and who also have their high school diploma or equivalent. Funding for Bidwell Training Center is received through the State of PA, foundations, grants, and individual donors. The tuition, fees, uniforms, scrubs, and textbooks are covered for all accepted students.
Experience a Medical Assistant Externship
Near the end of your program at Bidwell Training Center, you will complete a 4-week externship. Your externship will let you apply the skills learned in the Medical Assistant program, and help you gain relevant work experience.
The combination of in-class and on-site training will help you get career ready for employment in the medical industry.
Career Opportunities
After graduating from your program, you will have the skills to pursue a variety of positions in the healthcare system, including:
Physician Practices
Ambulatory care facilities
Diagnostic laboratories
Convenience care clinics
Hospitals
Long-term care facilities
Rehabilitation Centers
Skilled nursing facilities
Schedule
Monday – Friday, 28 weeks (7 months)
Your Future Medical Assistant Career
Not only does Bidwell Training Center offer comprehensive career training, we also offer students career placement services. With dedicated placement staff available from day one, along with professional development courses built into the program, you will be prepared you for your future career in healthcare.
Is a Rewarding Career as a Medical Assistant Right For You? Get More Info…
If you're interested in learning more about careers in the Medical Industry and exploring whether Bidwell Training Center is right for you, fill out the form on this page to receive more information.
For immediate questions, call 412-402-9761
*Program length when completed in normal time.