Get the Skills to Become a Horticulture Technology Professional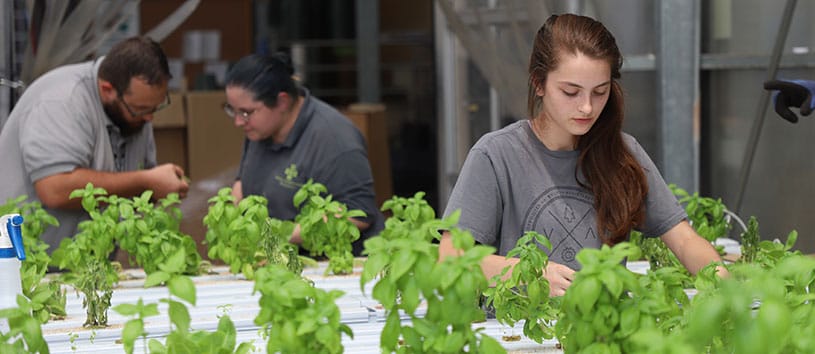 7-Month* Horticulture Technology Training in Pittsburgh, PA
Are you an energetic, curious person with an appreciation for nature and its ecological relationships? Find your place in the green industry with Bidwell Training Center's Horticulture Technology Program and get the skills to pursue a rewarding career in horticulture.
Bidwell's Horticulture Technology Program is designed to equip you with the tools and knowledge to start a career in a broad range of horticulture sectors. Science-based instruction will focus on traditional, and practical skill development, while integrating advancing technologies, sustainability, and industry procedures.  Take advantage of the increasing demand for trained individuals in the existing and emerging green sector – enroll today!
Apr 8th, 2024

Horticulture Technology

: Horticulture Technology

Bidwell Training Center - Bidwell Training Center

1815 Metropolitan Street

Pittsbrugh

PA

United States

15233

Learn about the natural world and its ecological relationships in this hand-on program. You will get knowledge and skills in plant sciences while making connections to critical environmental issues.

https://bidwelltraining.edu/wp-content/uploads/2016/02/mcg_rial_2884-e1566579442568.jpg

Bidwell Training Center
The best way to see if Bidwell Training Center is the right fit for you is to contact an admissions representative. Get more information on our programs and class schedules so that you can make an informed decision about your future. Contact Us Now >>>
Become a Horticulture Technology Expert
In the Horticulture Technology program, you will get a strong understanding of plant sciences while making connections to critical environmental issues. Our classrooms, campus, field, and lab components are integrated with our 40,000 sq. ft. greenhouse complex to provide a practical, professional learning environment. This program includes many career-focused courses, such as:
Botany
Design
Greenhouse Production
Industry Technology
Installation & Maintenance
Pest Management
Plant Industry Operations
Professional Development
Specialty Crops
Taxonomy
No-Cost Programs
At Bidwell Training Center, we know how difficult it can be trying to make ends meet while pursuing your career goals. That's why all our programs are offered at no-cost.
Tuition is not charged to students who are residents of Pennsylvania and who also have their high school diploma or equivalent. Funding for Bidwell Training Center is received through the State of PA, foundations, grants, and individual donors. The tuition, fees, uniforms, scrubs, and textbooks are covered for all accepted students.
Experience a Horticulture Technology Externship
Near the end of your program at Bidwell Training Center, you will complete a 4-week externship, giving you the workplace confidence, you need to pursue your career goals. Your externship will let you apply the skills learned in the Horticulture Technology program, and help you gain relevant work experience.
The combination of in-class and on-site training will help you get career ready for employment in many green based industries.
Career Opportunities
Once you complete your program, you will have the necessary skills to pursue a variety of careers, including:
Horticulturist
Florist
Landscape Technician/Designer
Grower
Greenhouse Technician
Nursery Technician
Interior Plant Technician
Urban Farmer
Plant Propagator
Spray Technician
Horticultural Therapist Assistant
Sales Representative
Groundskeeper
Urban Forester/Arborist
Your Future Horticulture Technology Career
Not only does Bidwell Training Center offer comprehensive career training, we also provide students with career placement services. With dedicated placement staff available from day one, along with Professional Development courses built into the program, you will be confident and prepared to change the horticultural landscape.
Is a Rewarding Career in Horticulture Technology Right For You? Get More Info…
If you're interested in learning more about careers in the Green Industry and exploring whether Bidwell Training Center is right for you, fill out the form on this page to receive more information.
For immediate questions, call 412-402-9761
*Program length when completed in normal time.