Get The Skills To Become a Medical Coder/Biller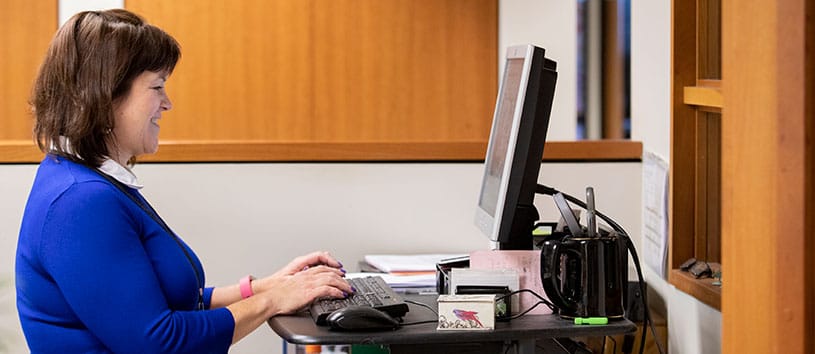 8-Month* Professional Medical Coder/Biller Training in Pittsburgh, PA
Do you have an eye for detail, great organizational skills, and enjoy working with others? Does medical detective work sound fascinating to you? If it does, Bidwell Training Center's Medical Coder/Biller program might be for you!
At Bidwell Training Center, our Medical Coder/Biller program will get you the skills to help healthcare facilities get reimbursements from insurance companies, while correctly processing health insurance claims. You will also receive hands-on training during your externship in a medical facility, where you will apply your new skills in a professional environment.
Apr 10th, 2023

Medical Coder/Biller

: Medical Coder/Biller

Bidwell Training Center - Bidwell Training Center

1815 Metropolitan Street

Pittsbrugh

PA

United States

15233

Our Medical Coder/Biller program gets you the skills to help hospitals, physician practices, and other healthcare facilities get reimbursements from insurance companies while correctly processing health insurance claims.

https://bidwelltraining.edu/wp-content/uploads/2016/07/mcg_rial_2100-e1566838641964.jpg

Bidwell Training Center
The best way to see if Bidwell Training Center is the right fit for you is to contact an admissions representative. Get more information on our programs and class schedules so that you can make an informed decision about your future. Contact Us Now >>>
Become a Professional Medical Coder/Biller
The Medical Coder/Biller program will provide you will the skills and experience it takes to be a qualified healthcare professional. You will learn how to assign codes for insurance companies, analyze medical records, and how to interpret laws and regulations. Once you've completed your program, you will feel confident and ready to pursue a career in the healthcare industry.
This program features many career focused courses, including:
Anatomy & Physiology/Pathology I-III
Communications & Professional Skills
Computers & Professional Skills
CPT Coding I-III
Encoding
Health Information Management/Electronic Health Records HIM/EHR
ICD-10-CM/PCS Coding I-III
Mathematics
Medical Claims Processing I-III
Five-year weighted average rates for retention, job placement, and exam passage:
Percentage for Retention: 72.2%
Percentage for Job Placement: 84.62%
Percentage for Exam Passage: 86.36%
2016 Job Placement : 80%
The above data has been approved by the Medical Assisting Education Review Board (MAERB), a Committee on Accreditation of the Commission on Accreditation of Allied Health Education Programs (CAAHEP).
No-Cost Programs
At Bidwell Training Center, we know how difficult it can be trying to make ends meet while pursuing your career goals. That's why all our programs are offered at no-cost.
Tuition is not charged to students who are residents of Pennsylvania and who also have their high school diploma or equivalent. Funding for Bidwell Training Center is received through the State of PA, foundations, grants, and individual donors. The tuition, fees, uniforms, scrubs, and textbooks are covered for all accepted students.
Experience a Medical Coder/Biller Externship
Near the end of your training at Bidwell Training Center, you will complete an 8-week externship, giving you the workplace confidence, you need to pursue your career goals. You will have a chance to complete your externship at either a medical coding service company, centralized coding facility, hospital coding department, physician practice, or insurance company. The combination of in-class and on-site training will help you get career ready for employment in the medical or insurance industries.
Career Opportunities:
Once you have completed your program, you will have the skills to follow many career paths, including:
Medical Coder
Coding Specialist
Coder/Abstractor
Billing Reimbursement Specialist
Accounts Receivable Specialist
Account Representative
Intake Specialist
Medical Claims Analyst/Reviewer
Workman's Comp Claim Examiner
Health Claim Processor
Schedule
Monday – Friday, 28 weeks (8 months)
Your Future Medical Coder/Biller Career
Not only does Bidwell Training Center offer comprehensive career training, we also offer students career placement services. With a team of dedicated placement staff available from day one, along with professional development courses built into the program, you will be prepared for your future career as a Medical Coder/Biller.
Is a Rewarding Career as a Medical Coder/Biller Right For You? Get More Info…
If you're interested in learning more about careers in the Medical Industry and exploring whether Bidwell Training Center is right for you, fill out the form on this page to receive more information.
For immediate questions, call 412-402-9761
*Program length when completed in normal time.